こんにちは
I have been having a lot of fun playing online matches on Backgammon Studio (and watching some awesome videos from Nordic Open!) but I have managed to scrape together a few more improvements:
Backgammon Studio 3.9
Improvements since 3.8:
New actiontags:


Hit and run or not
Hit and switch or not

New training tracks:


Anchor away! Is now the time to drop anchor and make a run for it? Risky!
Fighter! You are on the bar against a 4 point board. Surely you must drop?
Anchor cubes! Opponent has an anchor. Reason to worry or cube anyway?
Pointless doubles! You only have a 1 point board. Pointless to cube or perhaps not?

A truckload of 10s and 20s training tracks added.
Interface cleanup! Several sections are now dialogs (works better on phones). Some actions moved to different locations.
The cleanup also removed two fairly obsolete menu options horizontal and hidden. Classic menu just survived!
Interviews video section and a new section for videos.
Pin dialogs to page. Several dialogs can now be pinned to the page so they won't close when you click on a button inside the dialog.
Bronstein clock add is separate from bank. Suggested by denominator.
Icon for playing a match. Suggested by denominator.
Player profiles! You can now add some profile information about yourself. Suggested by MishyPoo.
Link to player profiles from the match champions list.
You can set different background colors between main and private database. Suggested by NPW.
Match chat - observers and players of a match can use this chat.
Improved use of gnu evaluation. Thanks to Marc Olsen for detecting this!
Some countries are unable to use paypal (Turkey and perhaps others). IBAN number provided.
TCTC is also used for take/drop challenge. Suggested by Hall.
Clicking on a name in the match champions list will display your head-to-head performance against this player.
A couple of users started to abort classic challenges in the middle only to restart directly afterwards. Mysterious. Now unless you complete a classic challenge you will have to wait 1 month until you can try it again.
In the tournaments section if you click on a tournament you can check how many matches there are for each year.
Reassigned shortcut keys to be more consistent: ctrl-c: challenges, ctrl-m: matches, ctrl-v: videos, ctrl-s: statistics, ctrl-a: my actions, ctrl-o: other actions.
Bugfixes:


A couple of dialogs didn't switch to fullscreen dialog on mobile (friends list and users list).
A search query using match id was ambiguous.
Possible fix for not triggering thumbnail generation. Reported by Mochy.
Possible fix for out of order double action.
Some images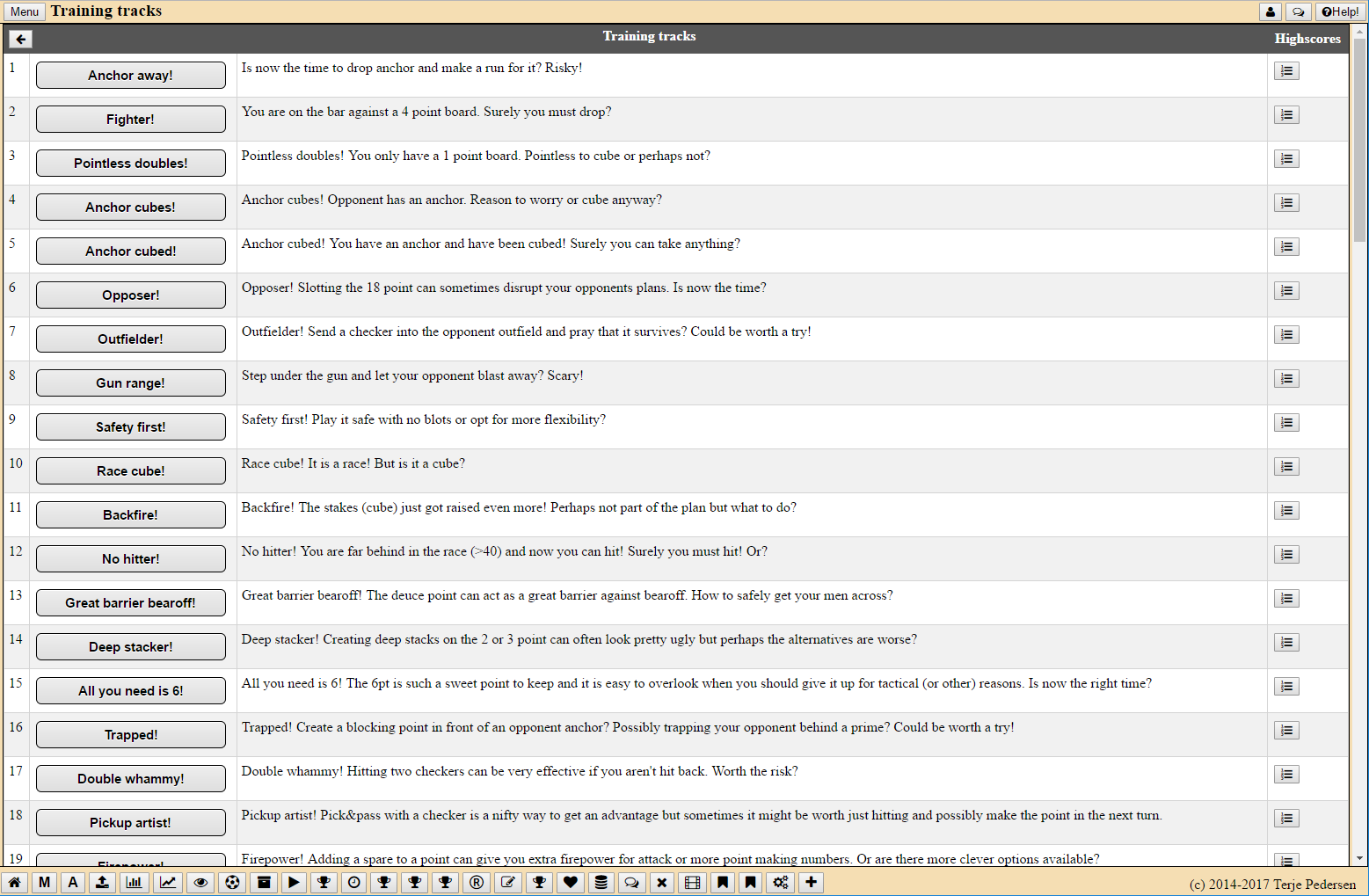 New training tracks! Sweet!
I have located a few more missing 10s training tracks so they are now in sync with the main ones. 76 in total!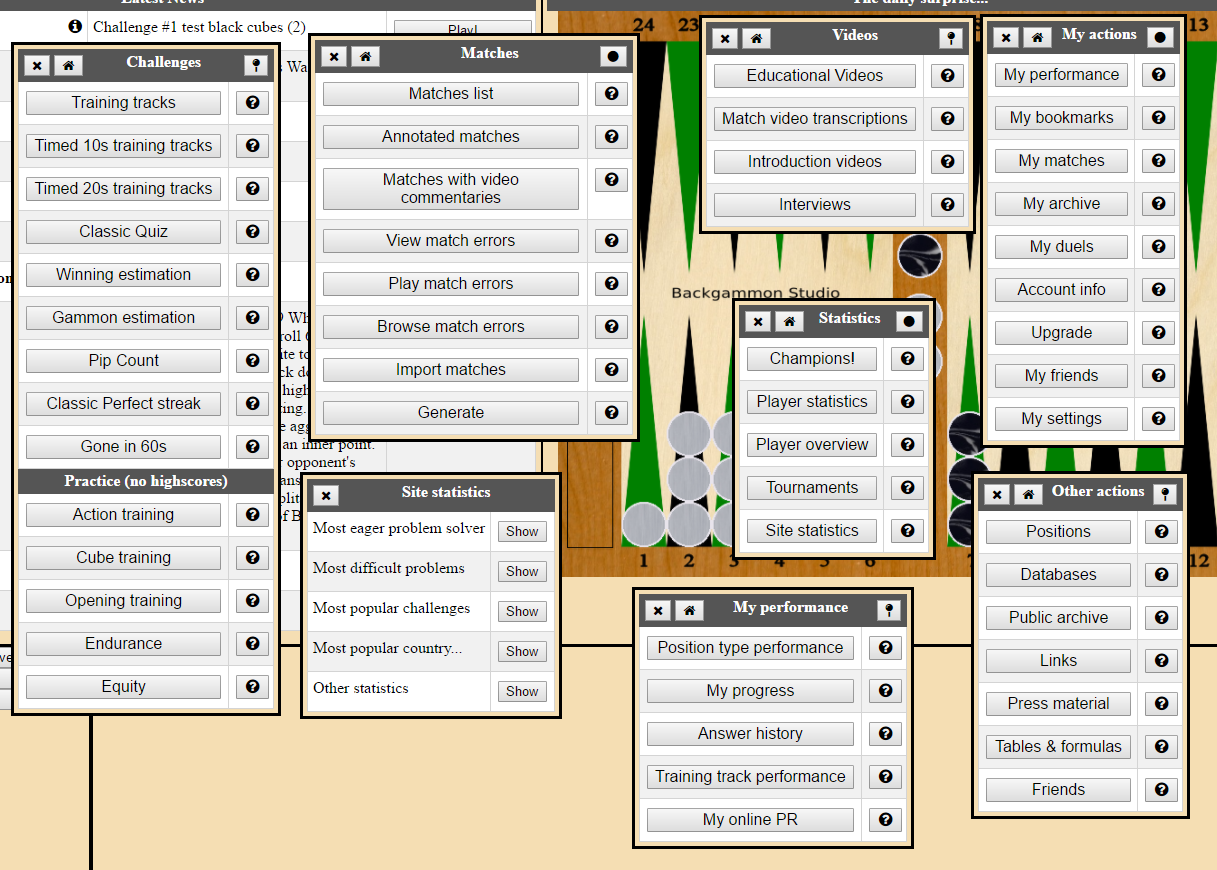 Interface cleanup! Perhaps the most noticeable are that some sections have become dialogs. And you can pin many dialogs so they won't disappear when you click on a button inside it.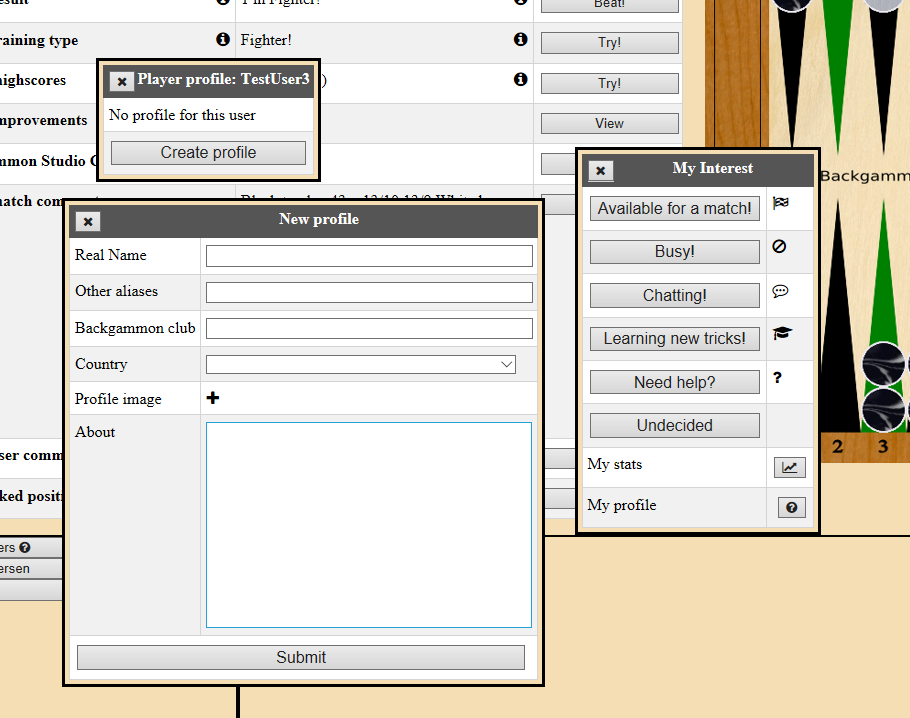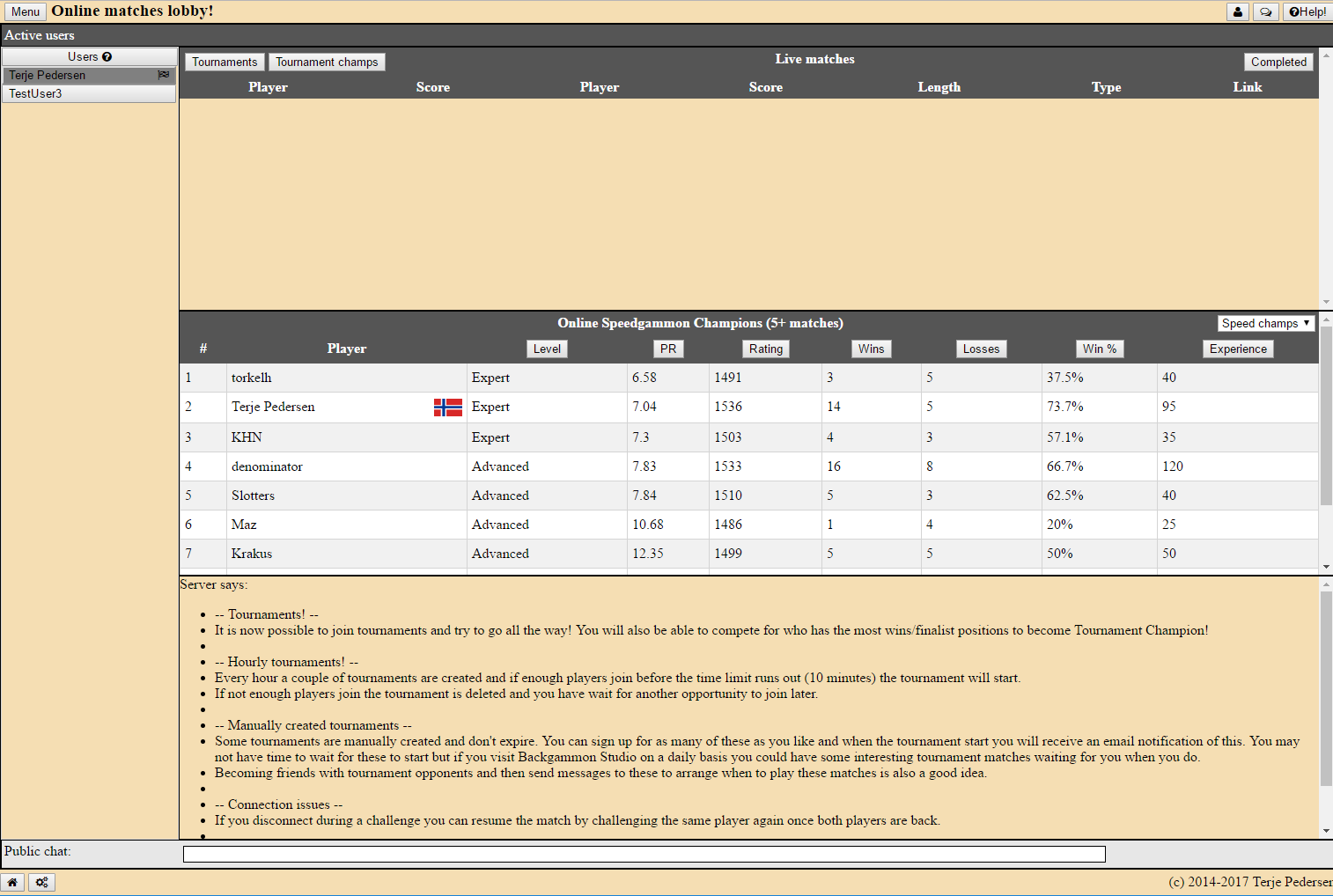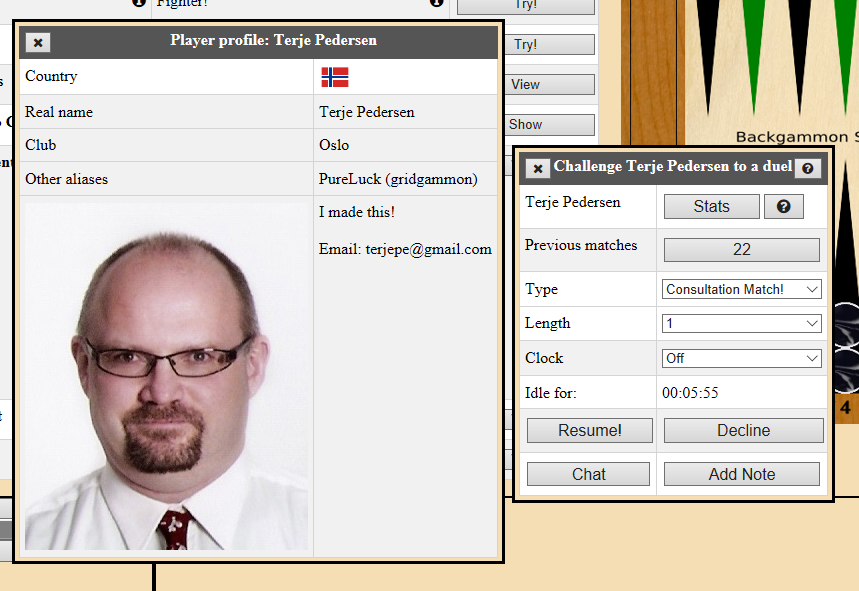 MishyPoo was looking for someone and asked if there were more information available but there weren't any. Now there is! If you would like to add some info about yourself please do!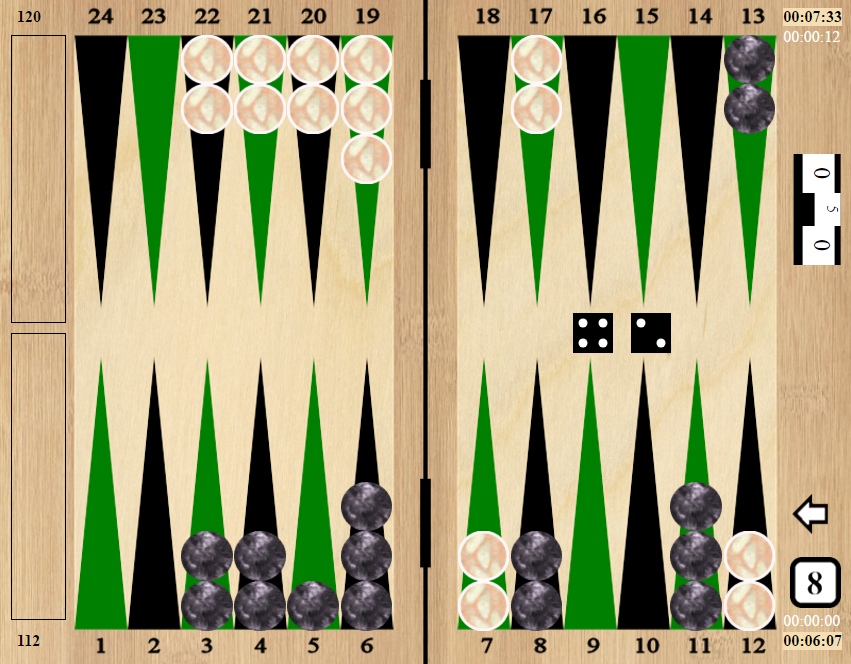 If you are playing a speedgammon match you may want to know how much time you have in the bank. This works best with a separate bronstein clock add part. Suggested by denominator.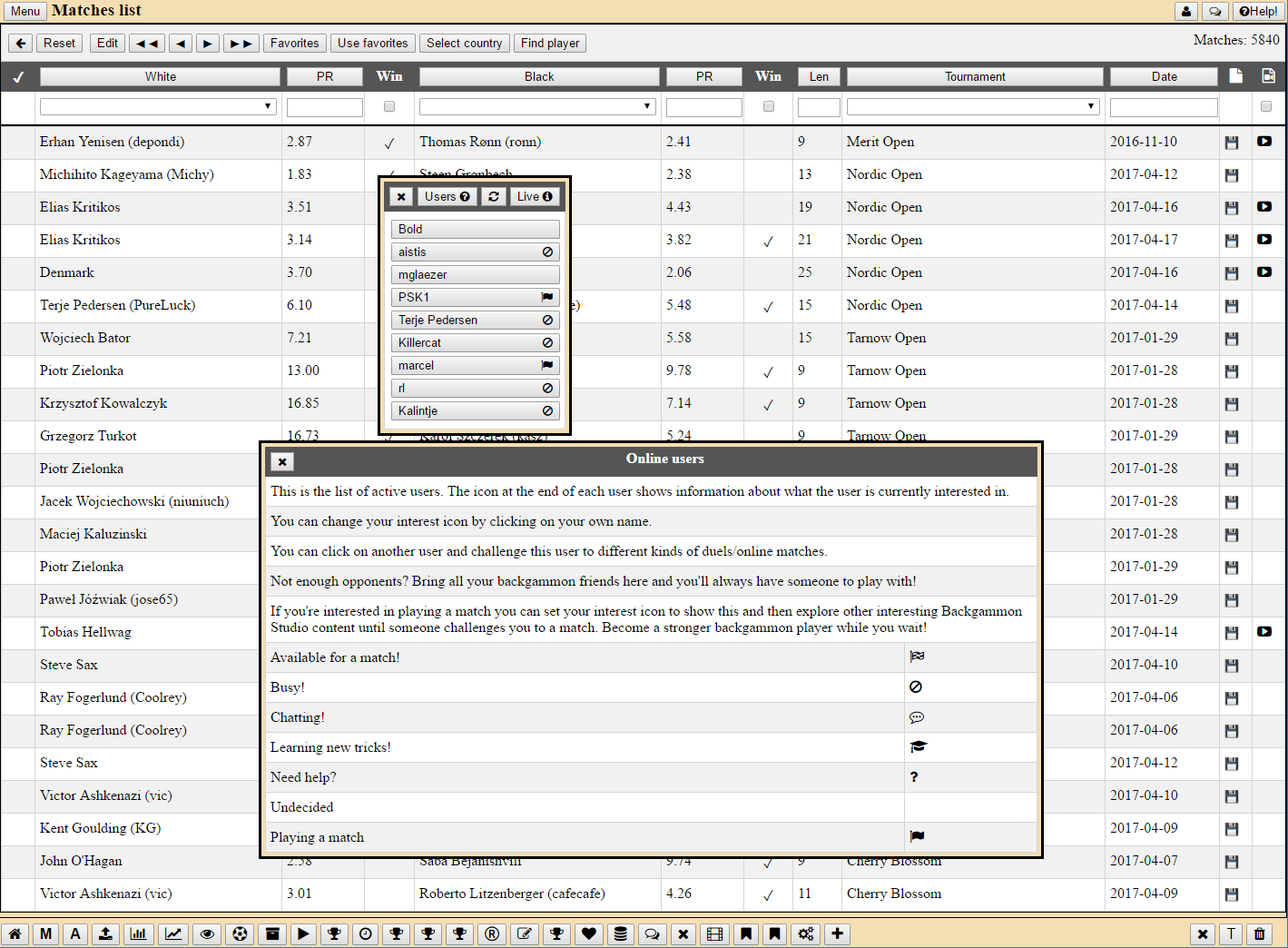 If you invite someone to a match from other locations than the lobby you may not know if this player is already playing a match or not. Now this is visible as a separate icon in the users list (ctrl-u). Suggested by denominator.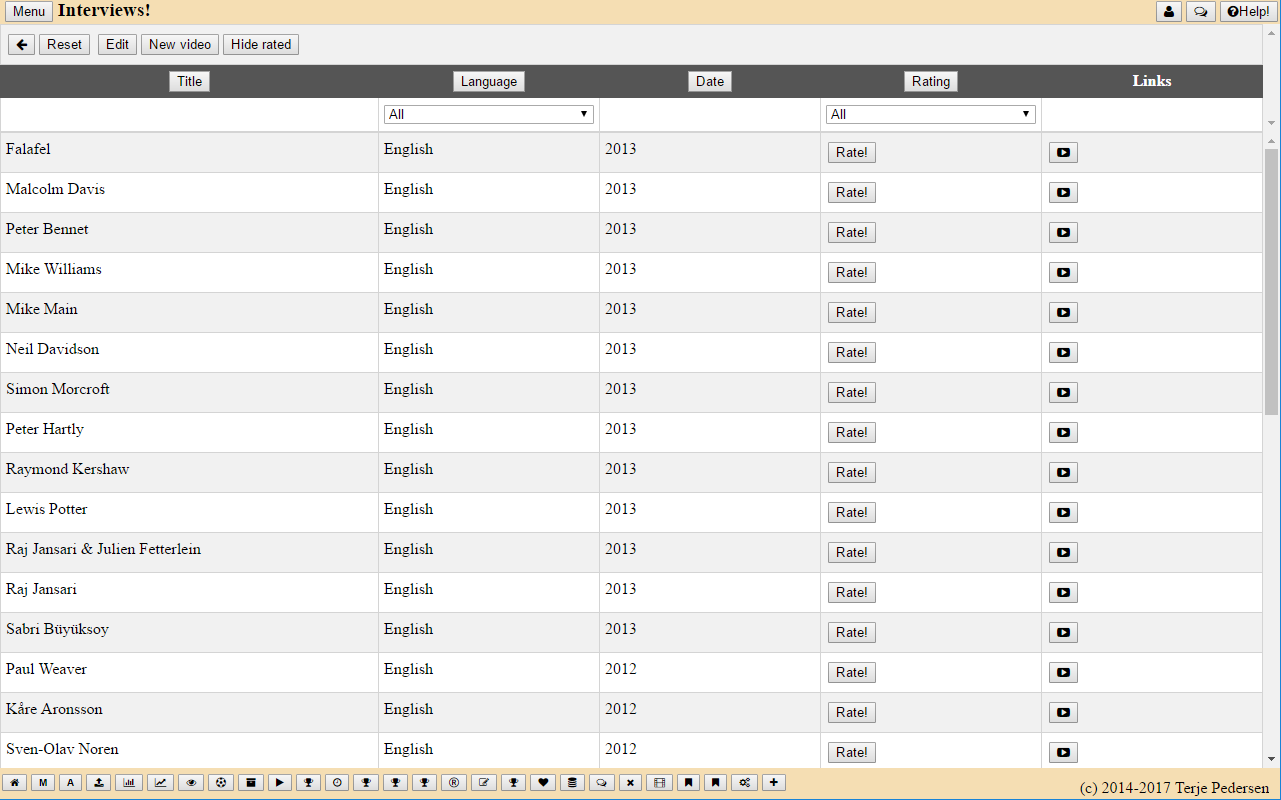 It is nice to put a face to the names in the database and interviews is a great way to learn more about a player. Thanks a lot to those who make an effort to create these videos!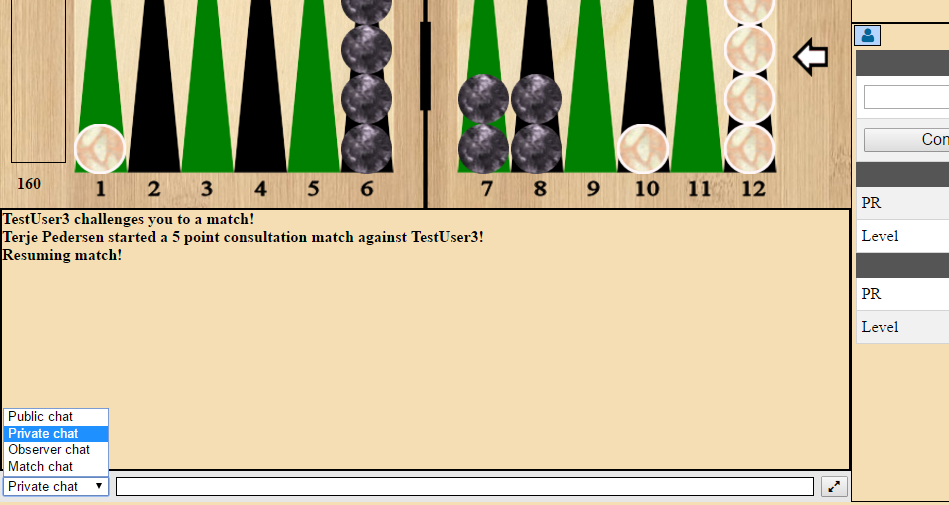 It is now possible for the players of an online match to chat with the observers of a match. Could come in handy in certain situations.
Known issues
On Internet Explorer clicking in input fields may not show the cursor unless you double click. This appears to be an IE bug.
Firefox may have some problems with blinking board. I am not able to see it on my desktop but I did see it on my laptop. I updated firefox and the problem went away. That might be the solution for you too. If not give Chrome a try.
Other news
Almost 5000 online matches have been played on Backgammon Studio so far! Somebody must like it!
https://www.backgammonstudio.com
The swiss army knife of backgammon!
Best regards,
TP