こんにちは
Backgammon Studio keeps improving and today I have updated the version number to 4.0 with these fine improvements:
Backgammon Studio 4.0
Improvements since 3.9:
New actiontags:


Trap play or not
Homeboard doublehit or not
Hit on the 24pt or not
Hit on the 23pt or not
Hit at front of prime or not

New training tracks:


Zombie revenge! The opponent checker on the 24 point needs to be resurrected! Will you help or leave it buried?
It's a trap! Can you trap your opponent into hitting? Open up your prime and see what happens...
Alone! One of your checkers is all alone in your opponent homeboard and possibly facing imminent attack! Can you still take?
Poison blots! Place a blot in front of an opponent 5 point anchor? Will it be toothless or carry much poison?

Other improvements:


Opening opera! Try the 5 first moves in a random match from the database. Can you ace it?
Premium Trial! Try out all features for a month to see what you're missing as a non premium users. That is a lot!
Saved queries in Week in review section.
Login/registration cleanup. Direct feedback on during registration if an error is detected.
Today top 5 highscore list now only contain one entry for each player.
You can now check your progress while playing training tracks.
Display average PR performance for players in a single tournament.
Display list of tournament matches for a single year.
Check graph of overall average PR performance.
Search view action tag section didn't look too good on iPad. It is now cleaned up and organized by subject.
You can now set the autoplay speed in board settings.
There is now an audio effect when you are being challenged. Suggested by Killercat.
There is now an expand button and filter button for the match champions list.
You can now filter training tracks based on cube only, checker play and opening play to make it easier to locate the training track you are looking for.
You can disable the private db help dialog that shows up whenever you switch to your private database.

Bugfixes:


You couldn't close the upload profile image dialog but it would close if you submitted an image. - Reported lhbraun.
If you use colon in a chat message anything past the colon would dissapear. - Reported by Hall.
The board scale didn't seem to be set properly (client using cached version). - Reported by panda999.
It wasn't possible to select Ed O'Laughlin or other users using single quotes in names in the match list.
Some images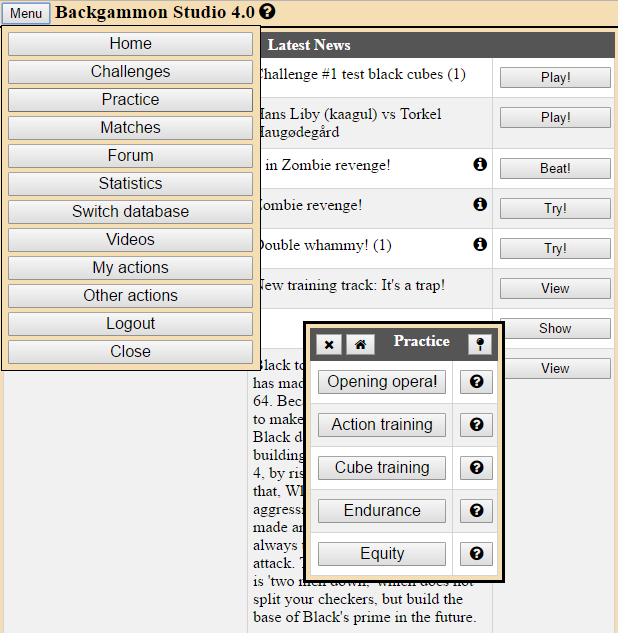 During Norwegian Championship Rune Færevåg mentioned that he had practiced openings by repeatedly playing the 5 first moves against XG. I came up with something similar using a random match from the database. While 6000 matches isn't scratching the surface of the number of different possible openings 5 move openings it should keep you entertained for a while!
Actually I also separated the practice tracks (no highscores) from the other ones into a separate dialog as it looked a bit odd to have it as part of the challenges dialog. Access it from menu/Practice or ctrl-p on desktop.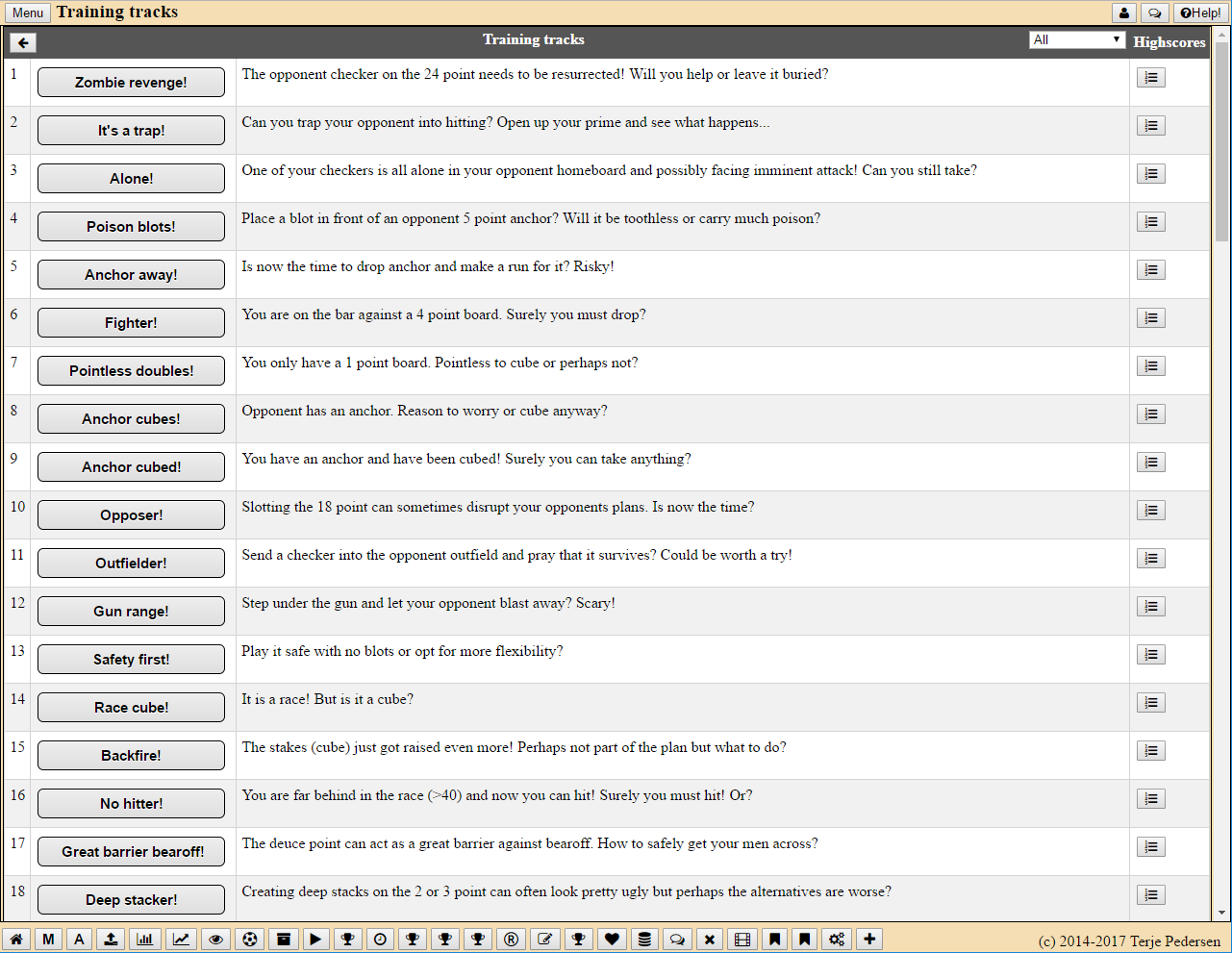 The number of training tracks has reached 80! Not too bad! Zombie checkers was suggested by Mary Hickey from her article on
GammonVillage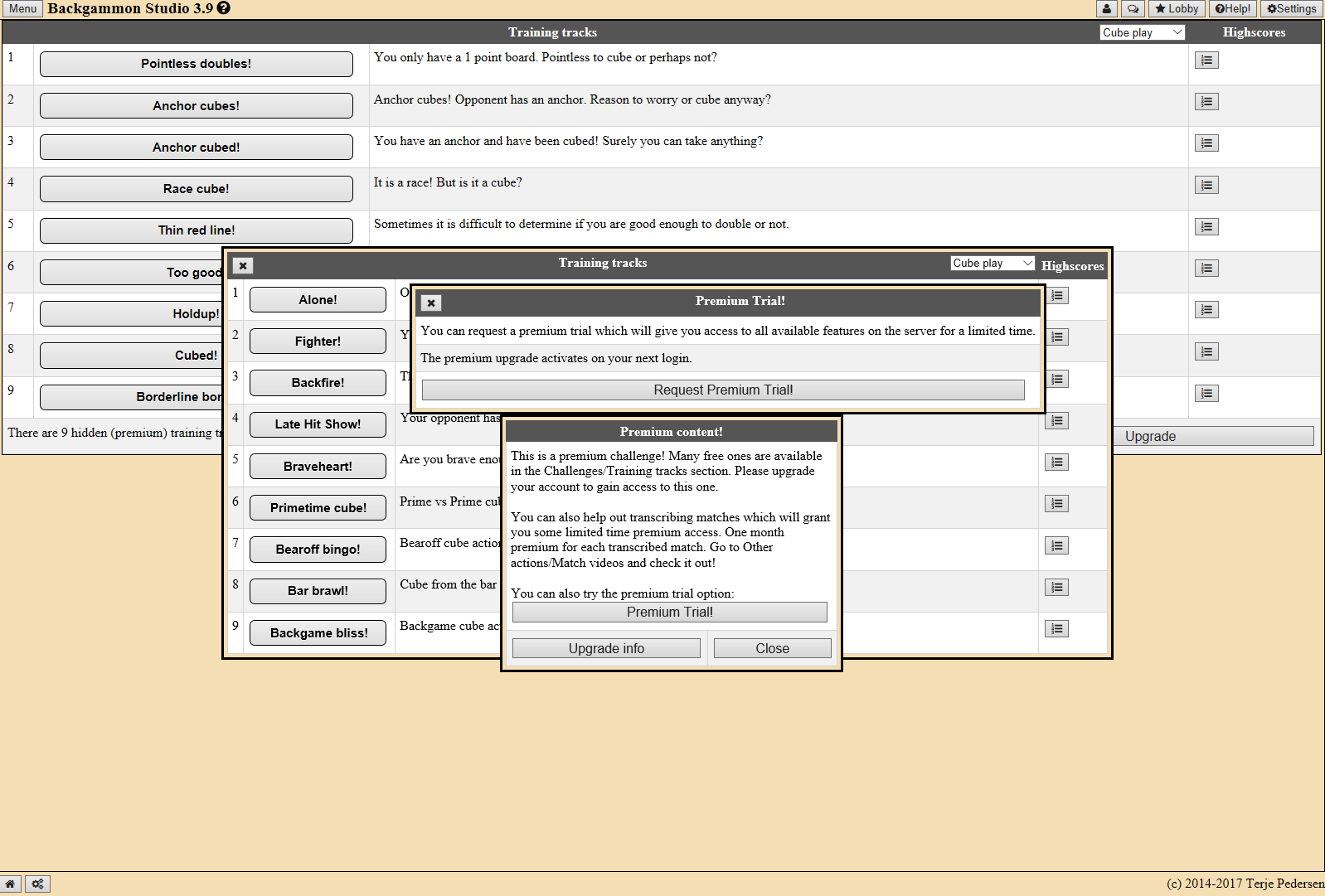 Curious what you are missing out on as a non-premium member? Now you can give premium a try!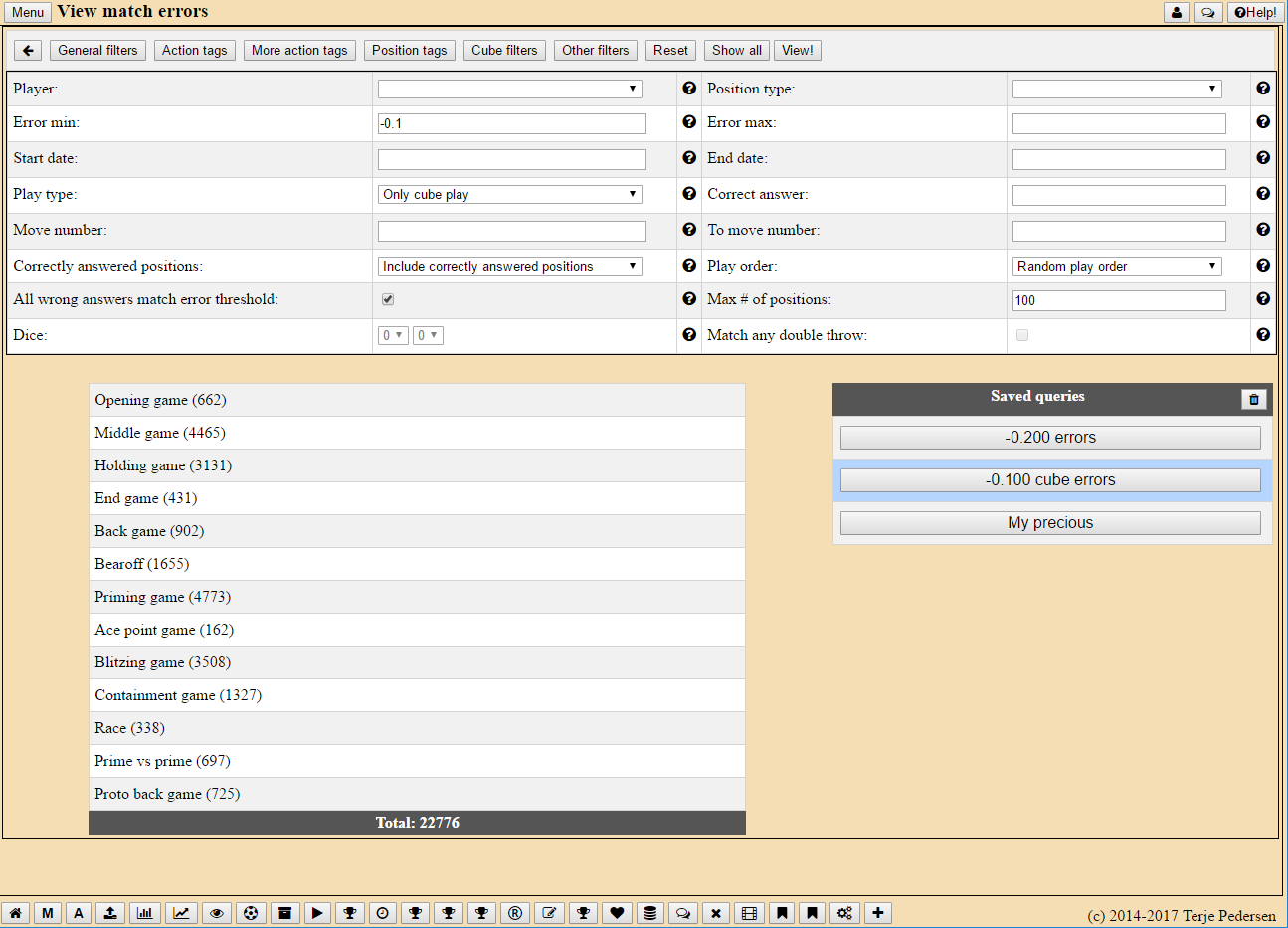 Saved queries is a nifty feature to store a search query for later use. Suggested by Tore.

One interesting use for saved queries is to use it to make a more interesting week in review session. For instance you can create a search query where you focus on missed cubes and then check how many of these you have done recently.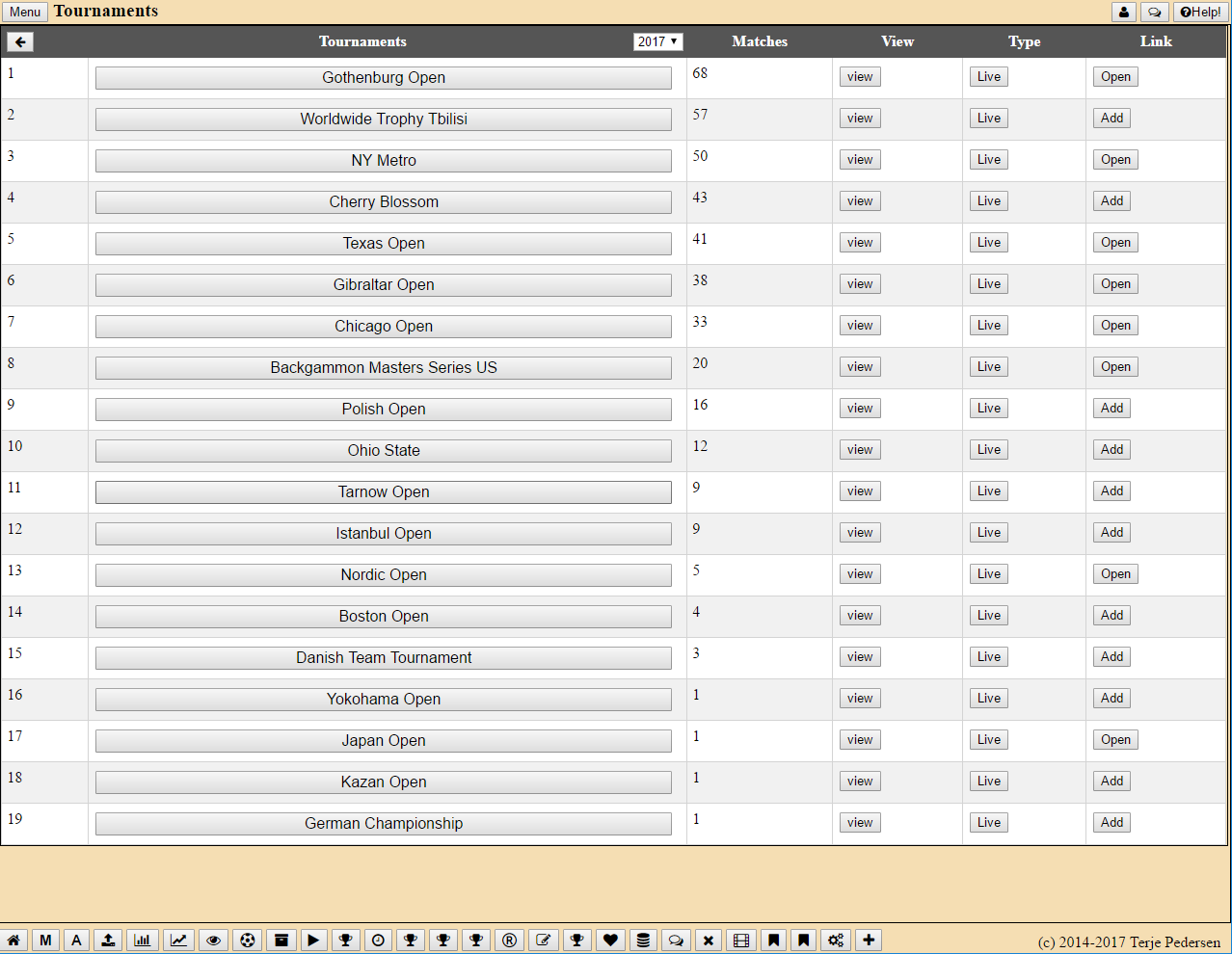 Which tournament has produced the most transcribed matches? Adding a BMAB part of a tournament can be a great way to boost this number!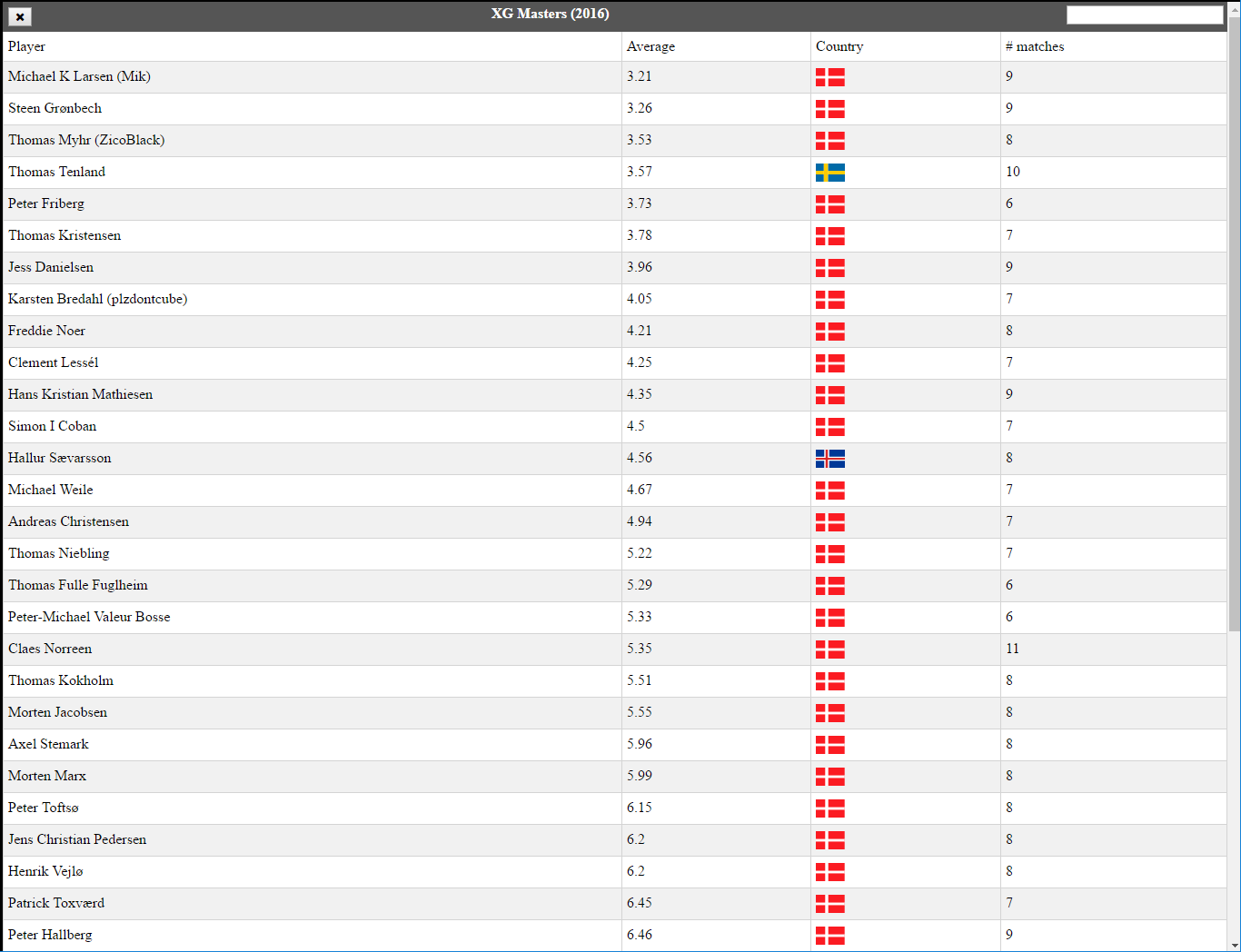 Find out which player played best during a tournament. Comparison is perhaps not so fair unless you have a BMAB type tournament where everyone will have multiple transcribed matches.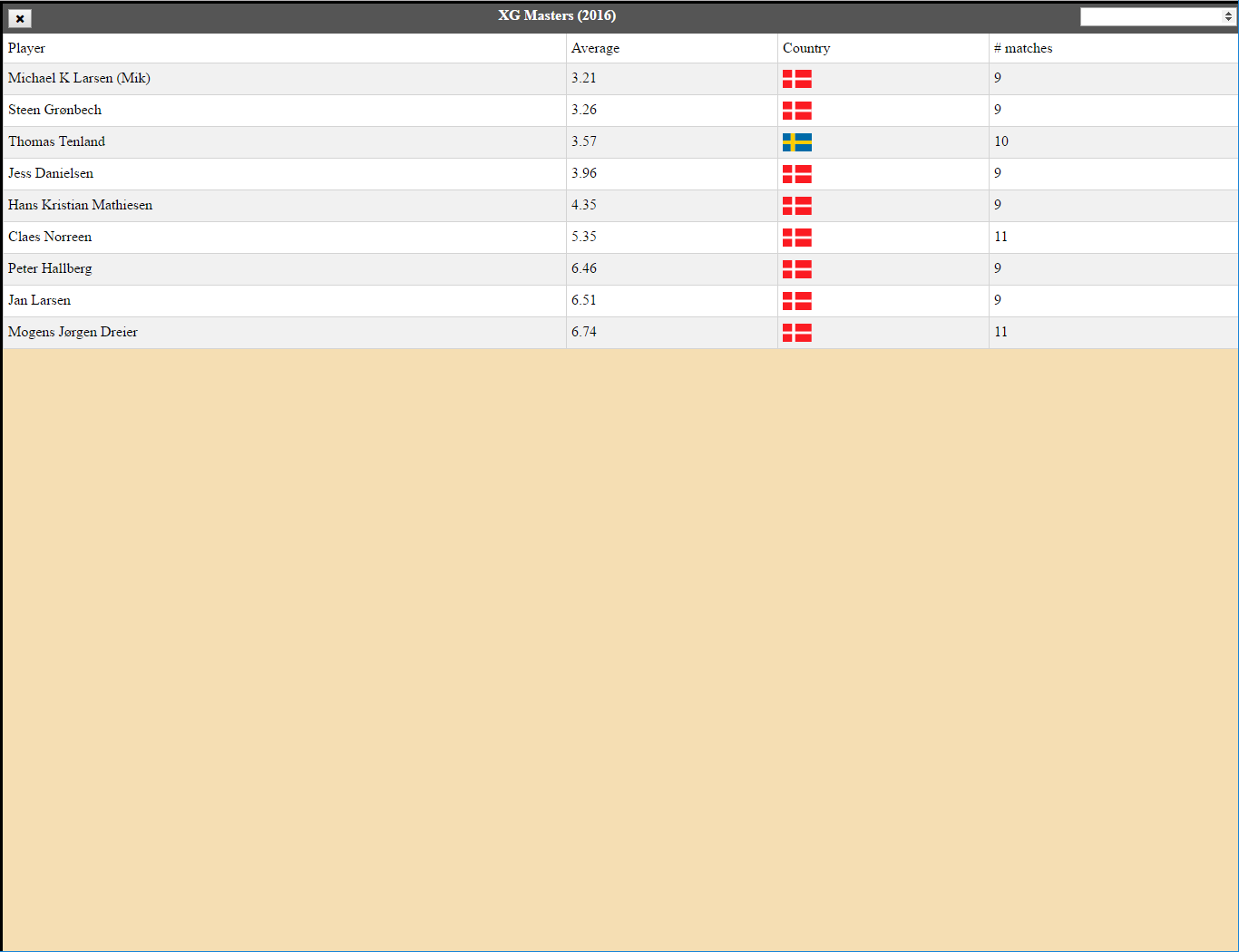 You can also enter a threshold of matches that should have been played (input field in the top right corner. Which should have had some additional info...).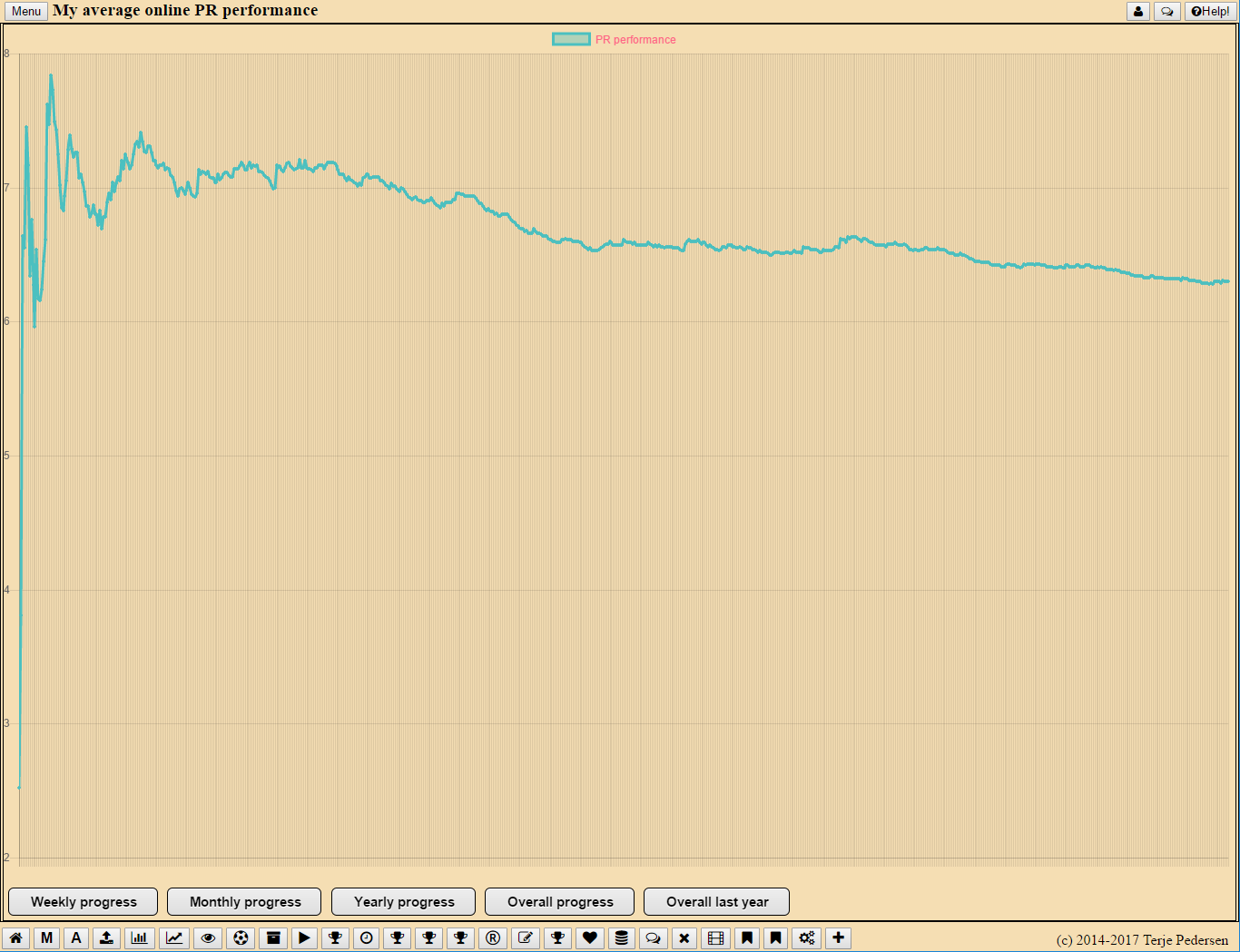 You can now check your overall PR performance which is perhaps more interesting than the original local performance graphs.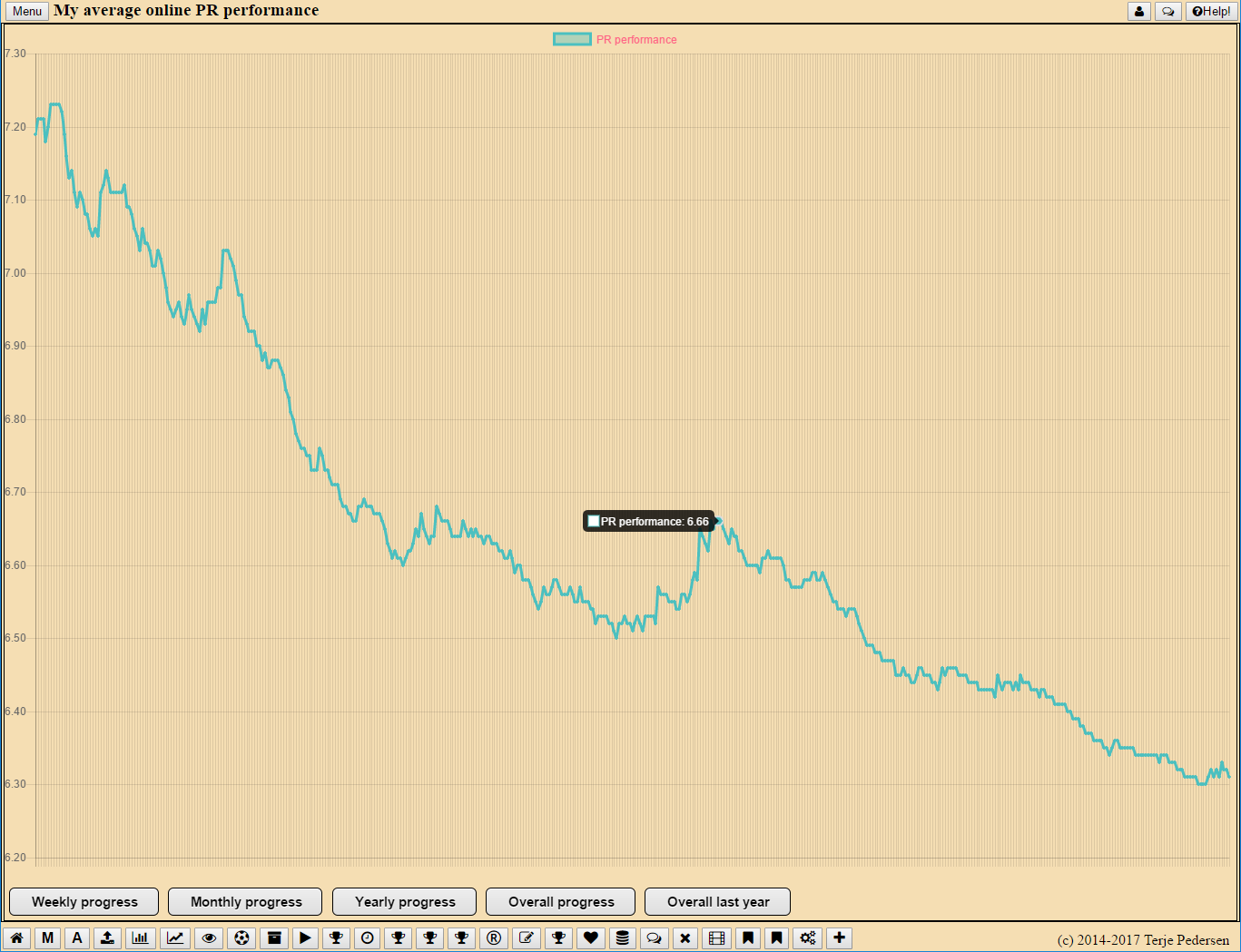 You can also get an overview for the last year.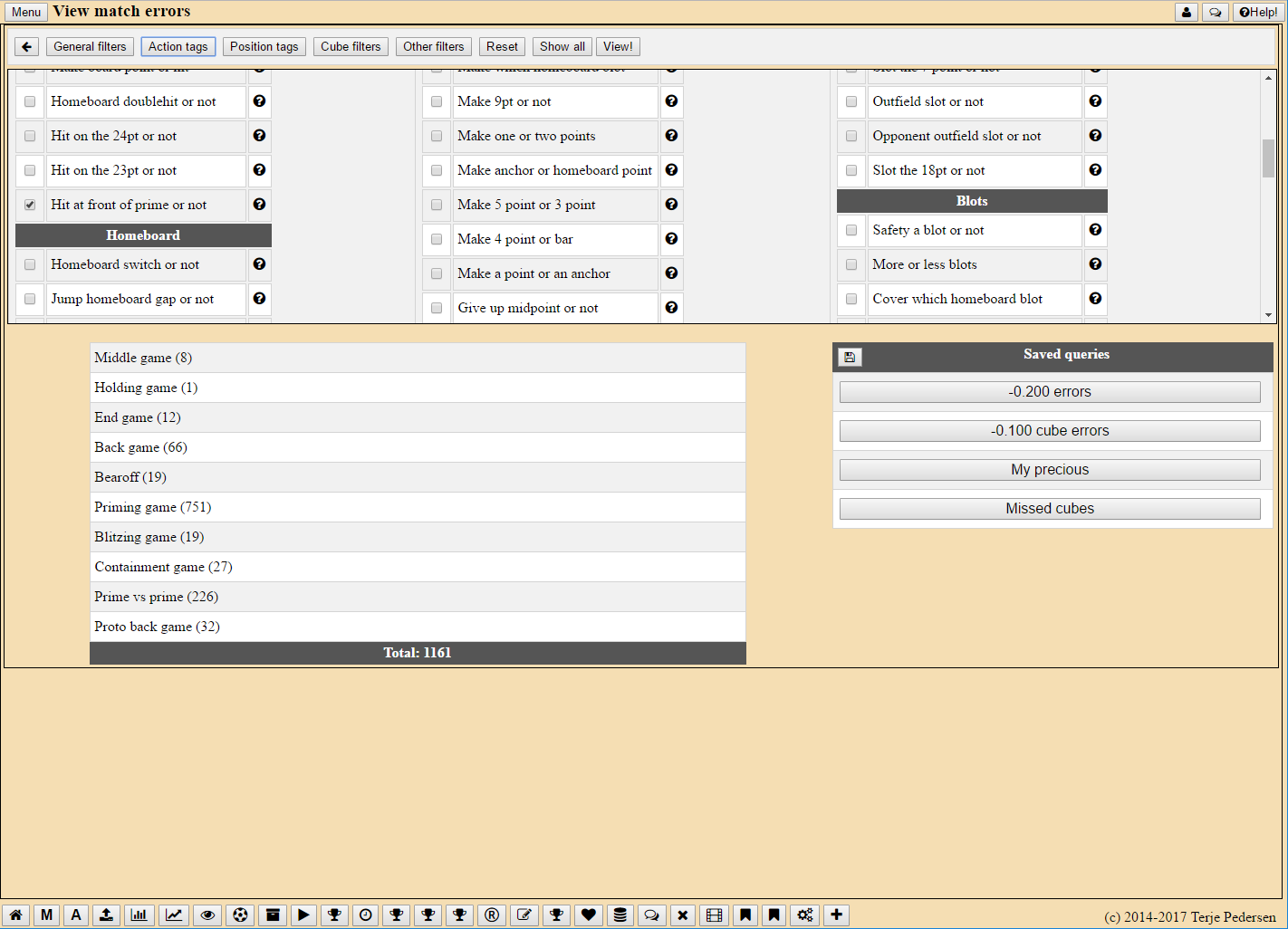 A cleanup of the search view action tags section. Now the tags are grouped on subject. This should also look better on tablet/phones. And oh hey! Several new action tags!
Feedback
Got any questions or feedback? Don't hesitate to email me at
terjepe@gmail.com
. Think something sux (like the UI)? Let me know or I may just think everything is awesome!
Spotted something that looks wrong? Take a screenshot and email it to me. That can help a lot in locating the problem!
Other news
The number of matches in the database passed 6000 recently (6065 as of today) and the number of online matches also went past 6000 and growing much faster (6709 as of today)!
Backgammon Studio
The swiss army knife of backgammon!
Haven't tried Backgammon Studio yet? You should!
Best regards,
TP